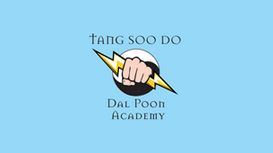 The Bedfordshire Dal Poon Tang Soo Do Academy is part of the European Tang Soo Do Federation (ETSDF). The ETSDF teaches one of the oldest martial arts. Tang Soo Do is a traditional Korean martial art based on the ancient Korean kicking style of Tae Kyun, and the soft, flowing movements from the Chinese Martial Arts systems. Whilst Tang Soo Do has the rituals and discipline of a traditional martial art it equips every student with effective modern self defense knowledge, techniques and capabilities.
The ETSDF is lead by Master Suresh Nar, sixth Dan Master Belt and is part of a larger global organisation, the International Martial Arts Association (IMA). The IMA is dedicated to the proliferation of the art of Tang Soo Do and its values throughout the world. The European Tang Soo Do Federation currently has clubs in England, Ireland, Wales and Malta. See the list of club locations to find your nearest club.
---
Reviews and Ratings
We do not have any reviews about Dal Poon Tang Soo Do available right now.