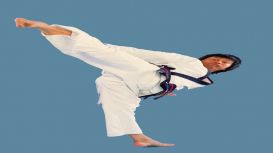 We hold classes three times a week in the Canary Wharf area:
Classes are Mondays and Thursdays Canary Wharf College, Eastferry Road E14 3BA
7 - 8pm.
Saturdays at Canary Wharf College, Glenworth Avenue E14 3EB
12:30 - 1:30pm.
Come along in loose clothing. First lesson is free. Contact Siew Loke on 07989445339 or siewloke@hotmail.com for further info.
All instructors are fully DBS checked.
For classes in other regions please visit our website http://www.tangsoudao.com/classes/
Business Verification Status
Services
Self Defence For Women:
These run from time to time and a course of lessons can be arranged for small groups by request. Classes will teach women to feel confident in challenging situations, offer advice and develop effective techniques to overcome unwanted intrusion.
No martial arts knowledge is necessary and even those with limited physical abilities can benefit from sessions.
Mixed Classes:
Most classes are mixed classes with all ages and belts. These classes are designed so everyone trains together, ensuring junior belts learn by example. There is a ten minute warm up which works systematically from the top of the body downwards, including strengthening and stretching exercises. This is followed by 20-30 minutes of basics; drilling strikes, blocks, kicks and combinations, together with practice on kick pads and hand targets. Work on forms and then free-sparring follows.
Children Only Classes:
There are also children only classes, which are generally tailored for very young children, under the age of 11 years. The format of the class is similar to the mixed class, however more time is spent on general co-ordination. All our instructors who teach the Children Only Classes are very experienced and have been teaching for many years.
And many more!!!
Reviews and Ratings
Trained at Epsom Tang sou Dao with my son Seb for about 6 years, great martial art, top sifu in Master Adam Goward, made lots of friends and learned a lot about myself and self-defence, still consider myself part of the family of Tang sou Dao.
My whole family have trained in Tang Sou and I am a 2nd Daun looking to go onto 3rd Daun. My children are confident and very well adjusted and they now thank me for this fantastic education that has taught them that if you persist you will succeed and they both have in their chosen fields of work.
Best place in town for teaching your kids karate, with a Chinese twist! The great close community set up!!