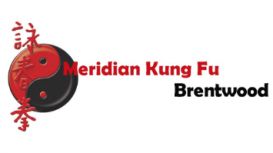 Wing Chun Kung Fu is considered one of the most effective forms of unarmed combat known and practised throughout the world. The Wing Chun system is approximately 400 years old and was created by a Buddhist Nun named Ng Mui.
Wing Chun's female creator took note of physical differences between men and women, therefore the emphasis is not upon force & strength to succeed, but the use of skillful hand and footwork combined with speed & technique to overcome opposition in the shortest possible time!
Even though many Martial arts styles and systems have become defunct or simply forgotten over the 400 years that Wing Chun has been developing, Wing Chun has continued to thrive and grow. This shows how Wing Chun has been able to adapt to its ever changing environment. The proof of this is that it still meets our needs today 400 years on. Wing Chun is forever growing as the common English translation of Wing Chun to 'Forever Spring' rightly suggests.
It is true that in modern times the skill of being able to defend ones self is still a useful one, however the Art of Wing Chun provides so much more than this, it offers mental challenges that will also enhance the lives of dedicated practitioners along with a fitness and wellbeing framework that can help you stay in great shape and health throughout your lifetime.
---
Services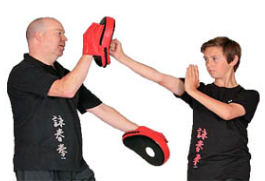 Now is a great time to join as we have groups of beginners ready to start together. New recruits are welcomed to the Club and eased into training during the 4 week basic training period. This is a period that helps build up fitness levels and understanding of the Club etiquette.
During the course basic blocks and strikes, kicks and footwork are taught allowing the foundations of the Wing Chun system to be laid and the child gets the opportunity to give the classes a good go before making any commitment. You also get the opportunity to see the classes in action and get to know us a little. We will assess your child to see how they fit into the group and ensure that they are in the best class for there needs before offering them a permanent place at the club.
We break our children's classes down into three age groups that are fundamentally aligned to the child's physical abilities and there maturity. This means that they will always be in a class that will encourage and challenge them to move forward but never feel out of there depth.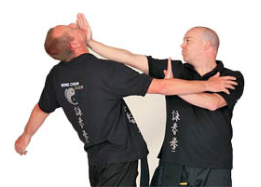 Wing Chun Kung Fu:
We teach Wing Chun Kung Fu, one of the most complete and therefore effective fighting systems known. Initially new recruits come along on a 4 week beginner's course.
Within the 4 week course recruits will learn:
Basic blocks and strikes within the system.
Entry level kicks.
Introduction to Sil Nim Tao (the first form).
Quick release techniques.
Basic etiquette, terminology and history.
Recruits are not thrown in the deep end: far from it. Beginners are taught separately from the main class group for the first 30mins of the session in a very small and personal group. This 30 minute session covers the techinques that will be taught in the main beginners class that evening for the following hour. Everyone is in the same boat together as we find this is the very best way to be introduced to training.
On completion of the course recruits are integrated into the main group body and can attend regular weekly sessions of their choice. Each week the students learn a new technique and skill within their belt status. Once all the techniques within their belt status are taught and understood the students are able to grade for the next belt within the system.
Reviews and Ratings
We do not have any reviews about Meridian Kung Fu Brentwood available right now.