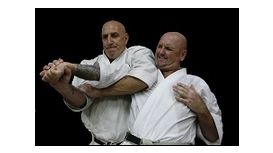 The Jundokan UK was established in 1985 with the express permission of Grandmaster Eiichi Miyazato and in 1997 he appointed Sensei Bob Honiball as Shibucho for the UK. Since 1985, Sensei Bob and Sensei Tony Green have travelled over to Okinawa along with sensei Eric form 2006 on a regular basis to receive training by Okinawan Masters of the Jundokan Dojo.
The chief instructor of England is sensei Tony Green and of Wales is Eric Williams who were both graded to 7th Dan by sensei Tetsunosuke Yasuda 10th dan + Yoshihro Miyazato (Kancho) in 2013 at the Jundokan so-honbu Naha Okinawa.
Our classes are specifically aimed at personal development, self defence, health and fitness. We train and teach traditional Okinawan Goju Ryu Karate Do in the same way as it is taught at the O.G.K.K So Honbu Dojo in Naha Okinawa.
---
Reviews and Ratings
We do not have any reviews about Jundokan England available right now.